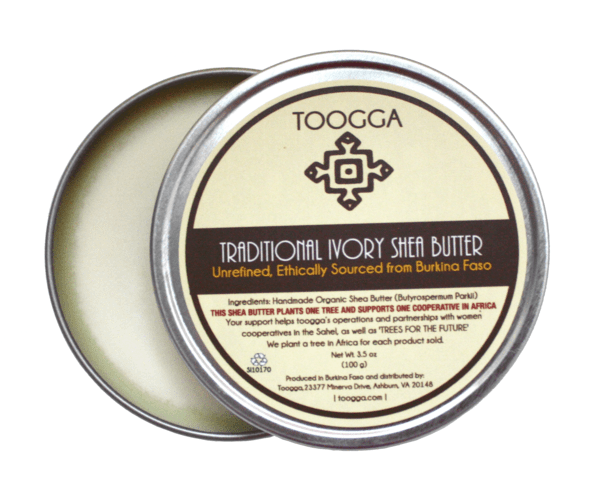 Shea Butter, Organic, Raw, Unrefined, 100% Pure - 3.5 oz
Regular price $ 12.00 Sale
Organic Traditional, Raw, Unrefined, West African Ivory Shea Butter
This wonderful, natural moisturizer was handcrafted using traditional methods and retains all of its skin softening, anti-aging, and anti-inflammatory properties.
Unrefined Shea Butter is high in Vitamin A, E and F. It is excellent for acne-prone, fine lines and it can restore elasticity to the skin. Most of the benefits of Shea Butter are gone when it is refined, bleached, and processed except for its moisturizing properties.
Non-comedogenic ( Won't Clog Pores)

Repairs dry, damaged skin, helps even skin tone.

Sourced directly from Women Cooperatives in Burkina Faso.
Our partner cooperatives hand harvest the Shea nuts ethically by collecting it from the wild forests surrounding their villages. They wash, dry, and crack the nuts at their own facilities, then roast the nuts before finally extracting the butter by cooking then scooping it without using any chemicals.
We offer only raw unrefined, pure, and naturally processed Shea Butter sourced directly from "The Pebatioga Women's Cooperative" and the "The Kankelefo Women's Cooperative"
Directions: Use on dry or damp skin and apply as needed on face, body, cuticles, and dry spots. 
Contains Only: Unrefined Organic Shea Butter (Butyrospermum parkii)
✓ Organic ✓ African Handmade ✓ Bioethical 
✓ 1 Tree Planted