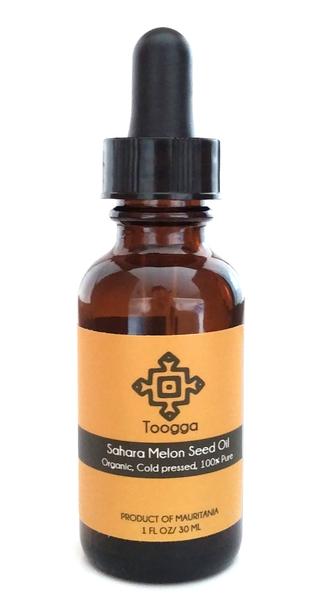 Organic Sahara Melon Seed Oil (Kalahari/Ootanga oil)
Regular price $ 16.00 $ 30.00 Sale
100% Organic Melon Oil, Vegan and Cruelty Free. Also known as Ootanga, Kalahari, and Voondi in the Sahel. The Badely women cooperative and their ancestors grew the melon for hundreds of years by devoting  the fields surrounding their villages.Today, their descendants still use the melon seeds as part of their diets and beauty regimen. 
The seeds have been harvested by the Badely women and cold extracted in our facilities in the Sahel and packaged in an amber bottle to protect it from light and damage.
Sustainably produced in small batches to ensure the highest potency and quality. Our proceeds supports women's cooperatives in the Sahel, Africa.
Benefits of the Melon Seed Oil
Non-comedogenic

Rich in antioxidants and omega 6 & 9 essential fatty acids

Contains linolenic acid which can help unclog pores and remove excess sebum on the surface of the skin.

Non-greasy, instantly hydrates and smooth parched, dry hair. Works on itchy Scalp and Dandruff

Works on all skin types
Badely cooperative member harvesting the Melon
Storage: Store in a cool dry place. No need to refrigerate. 
Contains Only: Pure Organic Melon Seed Oil (Citrullus lanatus)
✓ Wild Harvested ✓ Sustainable ✓ Bioethical ✓ Vegan

 
✓ 1 Tree Planted